Project Broadway presents multiple concert events to raise funds for Project Broadway. Concerts take place at 54Below and The West Bank Cafe in NYC.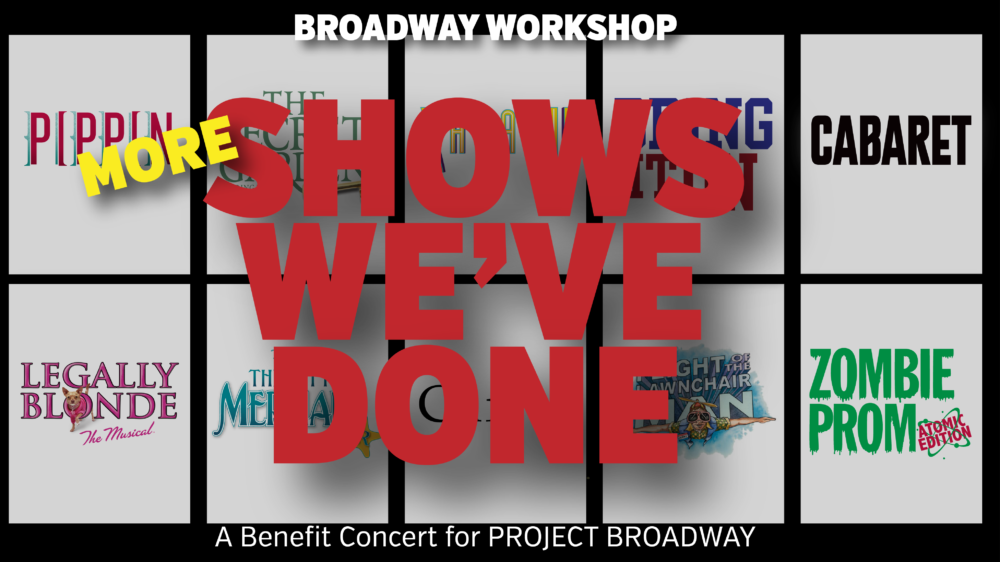 AUGUST 2, 2017 – 7PM
BROADWAY WORKSHOP – MORE SHOWS WE'VE DONE: a benefit for Project Broadway 
Past and current Broadway Workshop students take center stage at Feinstein's/54 Below to sing from shows that were part of Broadway Workshop's past! This special concert includes music from: Cabaret Flight of the Lawnchair Man, Curtains, Pippin, Zombie Prom, Like You Like It, Carrie, Spamalot, All Shook Up, Bring It On, James and the Giant Peach, Dear Edwina and More!  ALL proceeds benefit PROJECT BROADWAY,  Broadway Workshop's 501(C)3 dedicated to providing educational opportunities for students in the arts. Learn more about Project Broadway – ProjectBroadway.org.
2017 CAST INFO
Featuring: Alexa Kerner, Amanda Chin, Andy Kear, Anthony Zambito, Arielle Telemaco-Beane, Ashley LaLonde, Brianna Gentilella, Cat Tron, Courtney Corso, Hayden Gelman, Holly Block, Joy Lynn Pringle, Katherine Reis, Kelly Hooper, Kiarra Goldberg, Kristen Seggio, Lauren Echausse, Michael Nigro, Rachel Resheff, Skylar Dorfman
Directed and Hosted by: Marc Tumminelli
Musical Direction: Benjamin Rauhala
Producers: Yvette Kojic and James Scarola
VIDEOS
Performances from the 2015 and 2016 concerts at 54 BELOW are available on Broadway Workshop's YOUTUBE Channel
PHOTOS
Photos from the 2016 Concert were featured on BROADWAYWORLD.com